Nylon Cable Gland(Type A)
· Product details
Thread: Metric, PG, G(PF)
Material:UL approved nylon PA66 ( Flammability UL 94 V-2) for A, C, E, F parts .( Accept to make flammability UL 94V-0).
EPDM rubber for B, D parts (Also accept to make supper rubber: resist high temperature, resist strong acid/alkali,etc)
Protection degree:IP68-10
Wording temperature:-40℃-100℃ in static state, or instantaneous heat resistance up to 120℃; -20℃-80℃ in dynamic state,or instantaneous heat resistance up to 100℃.
Features:The claws and seals of excellent design, sealing nut have a click sound and re-open, can hold cable firmly and have a wider cable range. Resistant to salt water, weak acid, alcohol,oil, grease and common solvency.
Colors:Black, gray, and other colors available upon request.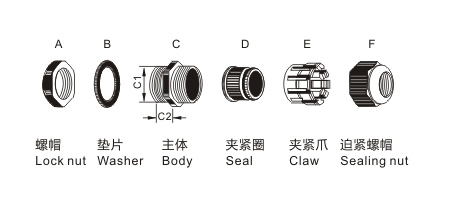 Skype Chat
Thread

Item NO.

Cable Range Ø(mm)

Thread O.D C1(mm)

Thread Length C2(mm)

Spanner Size

A&F(mm)

Std.PKG

(PCS)

M12X1.5

MIV-MGA12-5.5

3-5.5

12

8.5

18/19

50




MIV-MGA12-8

4-8

12

8.5

18/19

50

M16X1.5

MIV-MGA16S-5.5-ST

3-5.5

16

10

22/19

50




MIV-MGA16S-8-ST

4-8

16

10

22/19

50

MIV-MGA16-7-ST

4-7

16

10

22/22

50

MIV-MGA16-10-ST

5-10

16

10

22/22

50

MIV-MGA16-7

4-7

16

15

22/22

50

MIV-MGA16-10

5-10

16

15

22/22

50

M20X1.5

MIV-MGA20S-9-ST

5-9

20

10

24/24

50

MIV-MGA20S-12.5-ST

6-12.5

20

10

24/24

50

MIV-MGA20-11-ST

6-11

20

10

27/27

50

MIV-MGA20-14-ST

9-14

20

10

27/27

50

MIV-MGA20-11

6-11

20

15

27/27

50

MIV-MGA20-14

9-14

20

15

27/27

50

M22X1.5

MIV-MGA22-11

6-11

22

15

27/27

50




MIV-MGA22-14

9-14

22

15

27/27

50

M25X1.5

MIV-MGA25S-11-ST

6-11

25

10

33/27

50

MIV-MGA25S-14-ST

9-14

25

10

33/27

50

MIV-MGA25-16-ST

10-16

25

10

33/33

50

MIV-MGA25-18-ST

13-18

25

10

33/33

50

MIV-MGA25-16

10-16

25

15

33/33

50

MIV-MGA25-18

13-18

25

15

33/33

50

M32X1.5

MIV-MGA32-22

15-22

32

15

41/42

20




MIV-MGA32-25

18-25

32

15

41/42

20

M40X1.5

MIV-MGA40-26

20-26

40

20

50/52

10




MIV-MGA40-31

24-31

40

20

50/52

10

M50X1.5

MIV-MGA50-33

25-33

50

22

62/62

10




MIV-MGA50-41

31-41

50

22

62/62

10

M63X1.5

MIV-MGA63-46

39-46

63

25

75/75

10




MIV-MGA63-51

41-51

63

25

75/75

10

M75X2.0

MIV-MGA75-56

50-56

75

25

92/92

1




MIV-MGA75-66

56-66

75

25

92/92

1

M90X2.0

MIV-MGA90-68

58-68

90

25

110/110

1




MIV-MGA90-77

66-77

90

25

110/110

1

PG7

MIV-PGA7-5.5

3-5.5

12.5

8

17/19

50




MIV-PGA7-8

4-8

12.5

8

17/19

50

PG9

MIV-PGA9-5.5

3-5.5

15.2

8.2

22/19

50




MIV-PGA9-8

4-8

15.2

8.2

22/19

50

PG11

MIV-PGA11-7

4-7

18.6

10

24/22

50




MIV-PGA11-10

5-10

18.6

10

24/22

50

PG13.5

MIV-PGA13.5-8.8

5-8.8

20.4

10

27/24

50




MIV-PGA13.5-12.5

6-12.5

20.4

10

27/24

50

PG16

MIV-PGA16-11

6-11

22.5

10.8

30/27

50




MIV-PGA16-14

9-14

22.5

10.8

30/27

50

PG21

MIV-PGA21-16

10-16

28.3

12

36/33

50




MIV-PGA21-18

13-18

28.3

12

36/33

50

PG29

MIV-PGA29-22

15-22

37

12

46/41

20




MIV-PGA29-25

18-25

37

12

46/41

20

PG36

MIV-PGA36-26

20-26

47

14

57/52

10




MIV-PGA36-31

26-31

47

14

57/52

10

PG42

MIV-PGA42-33

25-33

54

15

64/62

10




MIV-PGA42-41

31-41

54

15

64/62

10

PG48

MIV-PGA48-51

41-51

59.3

18.2

70/75

10

G(PF)1/4"

MIV-GA1/4-5

3-5.5

13.157

8.5

19/19

50




MIV-GA1/4-8

4-8

13.157

8.5

19/19

50

G(PF)3/8"

MIV-GA3/8-7

4-7

16.662

10

22/22

50




MIV-GA3/8-10

6-10

16.662

10

22/22

50

G(PF)1/2"

MIV-GA1/2-9

5-8.8

20.955

10

27/24

50




MIV-GA1/2-12.5

6-12.5

20.955

10

27/24

50

G(PF)3/4"

MIV-GA3/4-13

7-13

26.441

12

36/33

50




MIV-GA3/4-18

13-18

26.441

12

36/33

50

G(PF)1"

MIV-GA1-21

15-22

33.249

15

46/41

20




MIV-GA1-25

18-25

33.249

15

46/41

20

G(PF)1 1/4"

MIV-GA1 1/4-25.5

17-25.5

41.91

15

57/52

10




MIV-GA1 1/4-31

26-31

41.91

15

57/52

10

G(PF)1 1/2"

MIV-GA1 1/2-33

25-33

48

22

60/62

10




MIV-GA1 1/2-41

31-41

48

22

60/62

10

G(PF) 2"

MIV-GA2-46

39-46

60

25

72/65

10




MIV-GA2-51

44-51

60

25

72/65

10